The History of Samsco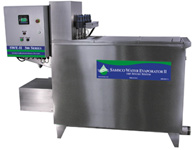 Samsco's expertise in evaporation and distillation technology has been gained from more than two decades of real-world experience in the design, manufacture, and application of evaporator systems.
Since 1985, we have provided the best evaporative solution to our clients' wastewater management problems. Our wide range of experience and our extensive client base have given us valuable insight and created an expertise that benefits our clients every day.
What this experience has shown us clearly over the years is: for a water evaporator to minimize your wastewater and your risks, it requires the support of a unique organization. Samsco is an organization that has years of single focus on evaporation and wastewater chemistry, is supported by a breadth/depth of engineering expertise, and is dedicated—company wide—to a philosophy of excellence.