Samsco's Evaporation Approach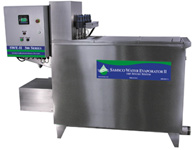 Comparison of evaporation methods shows that thermal immersion heating is the best overall choice. It is the most versatile, most reliable, and simplest to operate and maintain.
Using immersion heating, Samsco Water Evaporators have become the standard by which all other thermal wastewater evaporators are measured. With a patented design that has been enhanced by many years of application and design experience, Samsco is recognized as the leader and center of excellence in the wastewater evaporation industry.
For applications where a closed-loop approach is preferable, there is no better solution than the Samsco WaterSaver™ Vacuum Evaporator or the Samsco EnviroStill MVR (Mechanical Vapor Recompression) Evaporator. They allow you to reclaim and reuse chemicals, recover and reuse process water and reduce waste where concentrated chemicals cannot be used.
At the root of Samsco's leadership is a unique philosophy that runs consistently throughout the organization and is evident in the design of all Samsco Water Evaporators.
Their philosophy of maximizing value to the client incorporates these valuable elements into every evaporative system:
Expertise gained from years of real-world evaporator installations
Skills of the industry's most comprehensive team of in-house technical experts
Expertise in regulatory compliance and approval
In-depth application and process engineering knowledge for evaporators
Facility planning and integration
Detailed documentation
Pursuit of quality in everything Samsco provides its clients
Evaporators that provide superior performance:
- Reliability
- Safety
- Consistency
- Simplicity of use
- Versatility
World-class client support throughout the life of the evaporator