Atmospheric Evaporators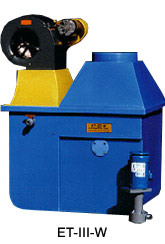 The Evaporative Tank (ET-III-W) atmospheric wastewater evaporator is designed specifically to evaporate water from solutions with high solids content. This particular design eliminates any small, entrapping passages. The up AND down-draft spraying at very high flow rates produces high evaporation at moderate temperatures.
Those looking for the greatest evaporation rates at a given temperature will choose the ET-III-W for its high efficiency for any application.
Another use "made-to-order" for the Evaporative Tank (ET-III-W) is the dewatering of decorative and hard chrome plating solutions. The ET-III-W can be used directly on the plating tank to remove rinse spray water and fume scrubber water.
Dewatering of waste solutions (cutting oils, printing ink & paint washwater, spent chemical solutions, photo waste) save the users of ET-III-W evaporators thousands of dollars in disposal costs. Where the need is for only 3 to 4 gallons of evaporation per hour, no added heat is required. Heat for evaporation is taken from the room air that is forced through the evaporator.
Specific features include:
Straight-Line Air Flow; Blower, Sprays and Evaporative Panels
Large Volume, low RPM, Full Width Blower
Patented One-Piece Molded Wet-Selection NO LEAKS!
Double Union, CPVC Ball Valve, for Evaporation Control
Maximum Wet area, IN-LINE* for Easy Air & Solution Flow
Rounded Turns for Smooth Air Flow
Up to 1-1/2 HP, All Ball Bearing Motor, 1.25 Service Factor, 1ø or 3 ø available
Up-Facing Exhaust, NO Elbows Needed
Custom designed, Stay-Wet Mist Eliminator for Maximum Droplet Retention. Optional "AirScrubber ™" Available for Near-Zero Discharge
Choice of Pumps to Fit Your Application
Strong, One-Piece, Molded "Tank". *No Welded Pieces to Crack or Leak.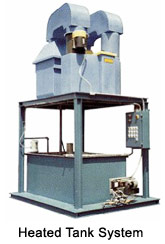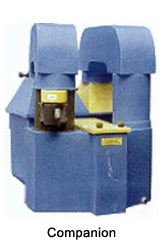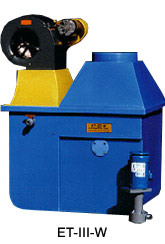 Samsco Atmospheric Evaporators Models
MODEL

ET-II-W

ET-III-W

Crated Weight (lbs.)

290

330

FOOTPRINT

56" L, 69" H, 29" W

56" L, 69" H, 38" W

BLOWER

1 hp (2500 CFM)
1 hp*

1-1 1/2 hp (3300 CFM)
1-1 1/2 hp*

Pump Requirements: 10 psi (23 feet of head) Required at Evaporator

21 gpm

45 gpm

Evaporative Area (sq ft.)

Variable

BOTTOM DRAIN

2" FPT, Gravity Return

TEMPERATURE LIMITS

Ambient Air; 40 - 104° F, Solution 40 - 160°F

VENT DUCTING

16" Diameter, Available from POLY PRODUCTS INC.

FLOOR SPACE

48" x 25"

48" x 34"

*available as 110/220V, 1 phase or 230/460V, 3 phase