Samsco Envirostill MVR Procedure.
Samsco Envirostill Vacuum-Aided MVR (Mechanical Vapor Recompression) Principles of Operation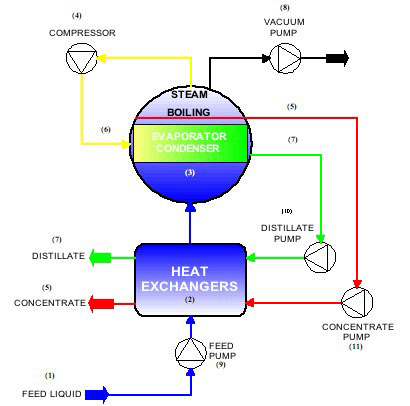 Entering wastewater (1) is preheated as it passes through a heat exchanger (2), transferring heat from and cooling the exiting pure distilled product water and concentrated wastewater flows.
The feed water, heated to within a few degrees of boiling temperature, next enters a bank of evaporator chambers, alternating with condenser chambers, separated by heat exchange plates (3). The feed water boils as it passes through the plates, and the steam is drawn off by a centrifugal compressor (4).
The remaining concentrate flows continuously out as wastewater (5), carrying away all contaminants.
The pure steam extracted by the compressor is pressurized slightly to raise its temperature, and then injected into the alternating condenser chambers (6), transferring its latent heat through the metal plates, thereby causing the feed water on the other side to boil.
The injected steam condenses into pure liquid water (7), and is then cooled as it flows out through the preheat exchanger (2).
Because the system operates at a partial vacuum (8), reducing the boiling temperature, and most of the process heat is recovered and recycled within the preheater and evaporator/condenser units, overall specific energy requirements are dramatically reduced in comparison to conventional distillation systems. In fact, following a brief start-up period, there is little or no energy required to directly heat the water. The only energy necessary to operate the system is consumed by the steam compressor (4) and a few pumps (9), (10), (11). Low temperature boiling also helps prevent scale formation and heat exchanger fouling.