Company Eliminates Sewer Discharge and Saves Thousands Per Year in Powder Coating Wastewater Disposal
The SAMSCO WATER EVAPORATOR enabled both cost reduction and elimination of sewer discharge.
The Company

Established in 1949, The Baker Company designed and built the first clean air work station, which set industry standards for quality, performance and construction in biological safety cabinets, fume hoods and clean benches. Today, their custom design capabilities continue to set industry standards for pharmaceutical, biotechnology, life science and hospital/clinical applications.
The Challenge
During the safety cabinet manufacturing process, fabricated parts go through a three-stage washer which includes a phosphating pretreatment process to prepare the metal for powder coating or electrostatic painting. This process was generating about 300 gallons per day of wastewater, containing phosphatizing solution and cleaners. The water was collected in a sub-floor pit, and then sent to the local POTW (publicly owned treatment works). In 1999, The Baker Company was notified that the local POTW was tightening regulations on wastewater discharge limits, and that the wastewater from the cleaning and phosphating process could no longer be sent to drain. The annual volume of wastewater was about 75,000 gallons per year. At estimated hauling costs of $.75 per gallon, the company was facing wastewater disposal costs of more than $50,000 per year.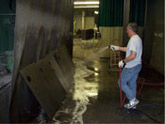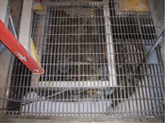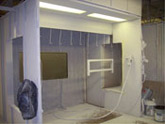 The Solution
The Baker Company needed to find a way to dispose of the wastewater that they had previously been able to send to drain. They wanted a solution that was economical, dependable, and required little maintenance. They approached the chemical company that supplied their cleaners, and they recommended that they contact Samsco to learn if evaporation might be the best answer. A Samsco application engineer worked with Baker to obtain a sample of their wastewater so that the Samsco lab could perform a functional pilot study to determine the appropriateness of the waste for evaporation, and to predict the reduction-in-volume (RIV). In 1999, The Baker Company purchased a Series 500 Samsco Water Evaporator to dispose of their pretreatment wastewater.
The Samsco evaporator has been running successfully for more than seven years, and it's estimated that, compared to hauling, Baker Company has saved more than $300,000 over the period.