Hyster New England
Largest material handling company in New England simplifies its washwater disposal by eliminating sewer discharge.
The Company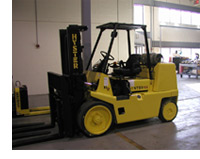 Hyster New England, the largest company of its kind in New England, and one of the ten largest Hyster dealers in the nation is a full-service material handling company. They provide new and used lift trucks from 2,500 to 105,000 lb capacities, as well as aerial equipment to rent, lease, or buy.
The Challenge
Hyster New England's newest facility in North Billerica, MA was looking for the most efficient way to handle the wastewater from their wash bays. Discharge to the local municipal sewer was not an option, since they were unable to obtain a permit to discharge the water containing oil and grease.
A recycling system had been installed at another Hyster New England facility, but that method proved to be costly and labor intensive and still left them faced with meeting local sewer discharge regulations. In addition, recycling of the wash water provided inconsistent quality in the cleanliness of the equipment. This was unacceptable to the quality-conscious organization.
The task was to:
Eliminate sewer discharge.and its accountability
Secure a solution with high reliability and consistent uptime
Minimize operating cost
Minimize maintenance requirements while maintaining consistent wash water quality
The Solution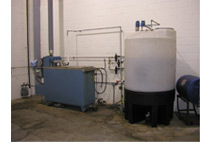 Hyster New England's Oper-ations Manager, Jeff Lakin, was familiar with the Samsco Water Evaporator having had a suc-cessful installation at their Concord, NH facility.
When a new facility opened in North Billerica, MA, Jeff con-tacted Greg Sullivan, an Application Engineer with Samsco, and determined that evaporation would again provide the best solution for their wash water disposal.
After conducting a Functional Pilot Test on a sample of the actual fork lift wash water waste, and determining the projected volumes, Greg was able to recommend the Samsco Series 500 CRA Evaporator.
The Result
Wastewater is reduced by ∼ 99%
Minimal labor time is used to operate system
Zero liquid discharge to drain
Clean, fresh water is used for all cleaning