Samsco WasteSaver (Vacuum Distillation) Benefits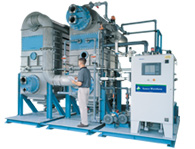 The Samsco WasteSaver vacuum distillation systems are used in a wide variety of industries to process contaminated industrial wastewater. This waste recycling technology allows recovery and re-use of process water, recovery and re-use of chemicals (e.g., plating solutions), and significant waste volume reduction where concentrated chemicals cannot be reused.
STANDARD FEATURES...
WHAT THEY MEAN TO YOU.
Vacuum operation at low temperature
Allows chemical concentrates to be reclaimed
Double-effect design
Uses energy twice, resulting in lower operating cost
Closed-loop design
Eliminates both sewer and air discharge
Simple PLC controls with operator interface display
Employees do not require specialized training or certifications
Two-stage mist eliminator
Prevents contamination of the distillate
EVAC™ Pumpless Liquid Transfer System
Eliminates the need for distillate & concentrate vacuum pumps
Distillate quality monitor
Ensures that only high quality water is returned for re-use
Customizable skidded package design
Conserves valuable plant floor space